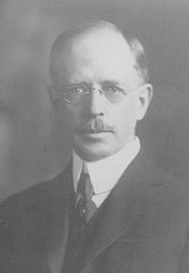 Lewis Sperry Chafer (February 27, 1871 – August 22, 1952) was an American Theologian who married Ella Loraine Case on April 22, 1896. They formed a traveling evangelistic music ministry, he singing or preaching and she playing the organ. He became active in Congregational ministry in Buffalo NY, where he became associated with CI Scofield, his mentor. When Scofield died in 1921, Chafer moved to Dallas to minister at the local church where Scofield had ministered before him.
While there, Chafer and WH Griffith Thomas felt a need for a simple Bible-teaching school and founded Evangelical Theological College (later Dallas Theol. Seminary), where he was president and professor of Systematic Theology until his death in 1952.
Chafer was a champion of Dispensational Theology, and influenced future generations of men such as J Dwight Pentecost, Charles Ryrie, J Vernon McGee, and John Walvoord (the latter his successor at DTS). Chafer was recognized among his friends and peers for his balanced, simple life. He was a well-spoken and relaxed leader and not a fire & brimstone preacher. Chafer believed the basic truths for Christian living are found in Romans 5. His most well known writings include the 8 volume Systematic Theology finished in 1947.
Displaying Audio message
1 - 20
of
21
matching 'Messages by Lewis Sperry Chafer'
All messages by
Lewis Sperry Chafer
, All messages in
English
| | Speaker | Title and Tags | Date | Place | Lang |
| --- | --- | --- | --- | --- | --- |
| | Chafer, Lewis Sperry | Lectures On The Spiritual Life 01 ~ The Believers Responsibility | unavailable | unavailable | |
| | Chafer, Lewis Sperry | Lectures On The Spiritual Life 02 ~ Power To Overcome The World | unavailable | unavailable | |
| | Chafer, Lewis Sperry | Lectures On The Spiritual Life 03 ~ Power To Overcome The Flesh | unavailable | unavailable | |
| | Chafer, Lewis Sperry | Lectures On The Spiritual Life 04 ~ Power To Overcome The Devil | unavailable | unavailable | |
| | Chafer, Lewis Sperry | Lectures On The Spiritual Life 05 ~ Fruits And Gifts Of The Spirit | unavailable | unavailable | |
| | Chafer, Lewis Sperry | Lectures On The Spiritual Life 06 ~ Praise And Teaching Of The Spirit | unavailable | unavailable | |
| | Chafer, Lewis Sperry | Lectures On The Spiritual Life 07 ~ Teaching And Leading Of The Spirit 1 | unavailable | unavailable | |
| | Chafer, Lewis Sperry | Lectures On The Spiritual Life 08 ~ Teaching And Leading Of The Spirit 2 | unavailable | unavailable | |
| | Chafer, Lewis Sperry | Lectures On The Spiritual Life 09 ~ Leading And The Life Of Faith | unavailable | unavailable | |
| | Chafer, Lewis Sperry | Lectures On The Spiritual Life 10 ~ Conditions For Filling Of The Spirit | unavailable | unavailable | |
| | Chafer, Lewis Sperry | Lectures On The Spiritual Life 13 ~ Grieve Not The Spirit 3 | unavailable | unavailable | |
| | Chafer, Lewis Sperry | Lectures On The Spiritual Life 14 ~ Quench Not The Spirit | unavailable | unavailable | |
| | Chafer, Lewis Sperry | Lectures On The Spiritual Life 15 ~ Walk In The Spirit 1 | unavailable | unavailable | |
| | Chafer, Lewis Sperry | Lectures On The Spiritual Life 16 ~ Christ's Death For Our Sins And Our Sin Nature | unavailable | unavailable | |
| | Chafer, Lewis Sperry | Lectures On The Spiritual Life 17 ~ Walk In The Spirit 2 | unavailable | unavailable | |
| | Chafer, Lewis Sperry | Lectures On The Spiritual Life 18 ~ The Ministries Of The Spirit | unavailable | unavailable | |
| | Chafer, Lewis Sperry | The Founding Of Dallas Theological Seminary | unavailable | unavailable | |
| | Chafer, Lewis Sperry | The Olivet Discourse 01 Matthew 24 Matthew | unavailable | unavailable | |
| | Chafer, Lewis Sperry | The Olivet Discourse 02 Matthew 24 Matthew | unavailable | unavailable | |
| | Chafer, Lewis Sperry | The Olivet Discourse 03 Matthew 24 Matthew | unavailable | unavailable | |