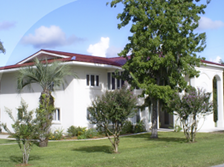 Park of the Palms
Located in Keystone Florida, Park of the Palms is a Christian community with both independent and assisted living facilities. More information is available from the website.
Christian brethren who were interested in providing a Christian retirement community in North Central Florida founded Park of the Palms. It was incorporated and became Park of the Palms, Inc. in 1974. As a retirement community it began with modest independent living structures and through the years, with lots of hard work and the Lord's blessing, has been able to expand to the 25-acre campus of independent and assisted living facilities that it is today.
The founders envisioned a retirement, conference and spiritual retreat center and as such the Park has continued to provide seasonal events that include special speakers to encourage Biblical studies and personal spiritual growth, high-quality concert artists and seminars of lifestyle management with the major emphasis being retirement services.
Displaying Audio message
1 - 20
of
2925
matching 'Messages in Park Of The Palms, Florida'
| | Speaker | Title and Tags | Date | Place | Lang |
| --- | --- | --- | --- | --- | --- |
| | Adams, David | Absolutes 01 ~ John 8: John | 1998-01-18 | Park Of The Palms | |
| | Adams, David | Absolutes 02 ~ John 6:14 John | 1998-01-20 | Park Of The Palms | |
| | Adams, David | Absolutes 03 ~ Light Of The World | 1998-01-22 | Park Of The Palms | |
| | Adams, David | Absolutes 04 ~ John 13: Time John | 1998-01-23 | Park Of The Palms | |
| | Adams, David | Revelations Of God 01 ~ Revelation 1: Revelation | 1993-02-07 | Park Of The Palms | |
| | Adams, David | Revelations Of God 02 ~ Revelation 1: Revelation | 1993-02-09 | Park Of The Palms | |
| | Adams, David | Revelations Of God 03 ~ Revelation 1: Revelation | 1993-02-10 | Park Of The Palms | |
| | Adams, David | Revelations Of God 04 ~ Revelation 1: Revelation | 1993-02-11 | Park Of The Palms | |
| | Adams, David | Revelations Of God 05 ~ Revelation 1: Revelation | 1993-02-12 | Park Of The Palms | |
| | Adams, David | Stewardship 01 ~ Isaiah 14: Isaiah | 1995-03-12 | Park Of The Palms | |
| | Adams, David | Stewardship 02 ~ Adamic Stewardship | 1995-03-14 | Park Of The Palms | |
| | Adams, David | Stewardship 03 ~ Fallen Stewardship | 1995-03-15 | Park Of The Palms | |
| | Adams, David | Stewardship 04 ~ Universal Stewardship | 1995-03-16 | Park Of The Palms | |
| | Adams, David | Stewardship 05 ~ Personal Stewardship | 1995-03-17 | Park Of The Palms | |
| | Adams, David | The Lord's Prayer 01 ~ John 17: John Prayer | 1995-03-12 | Park Of The Palms | |
| | Adams, David | The Lord's Prayer 02 ~ John 17: John Prayer | 1995-03-14 | Park Of The Palms | |
| | Adams, David | The Lord's Prayer 03 ~ John 17: John Prayer | 1995-03-15 | Park Of The Palms | |
| | Adams, David | The Lord's Prayer 04 ~ John 17: John Prayer | 1995-03-16 | Park Of The Palms | |
| | Adams, David | The Lord's Prayer 05 ~ John 17: John Prayer | 1995-03-17 | Park Of The Palms | |
| | Adams, David | Trilogies In Life Of Christ 01 ~ Luke 8: Christ Luke | 1998-01-18 | Park Of The Palms | |