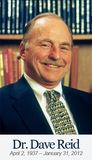 Dave Reid was called into the presence of his Lord and Savior Jesus Christ on January 31, 2012. "Dr. Dave," as he was fondly known, died in a tragic skiing accident in Utah. He was very active in the Lord's work both on and offline.
Dave taught the Word of God at Emmaus Bible College from 1975-2003 where he was well respected by the student body and faculty alike. He is fondly remembered as being able to bring the Old Testament to life, often referring to his visits to Israel.
Much of his ministry has been preserved and is available online. You can also explore 39 years of his bi-monthly publication Devotions for Growing Christians.
To read more memories of Dr. Dave visit the Remembering "Dr. Dave" page on the Emmaus Bible College website.
Displaying Audio message
1 - 20
of
26
matching 'Messages by David Reid'
All messages by
David Reid
, All messages in
English
| | Speaker | Title and Tags | Date | Place | Lang |
| --- | --- | --- | --- | --- | --- |
| | Reid, David | Bible Hermeneutics-01 ~ Introduction | -- 2007 -- | Park Of The Palms | |
| | Reid, David | Bible Hermeneutics-02 ~ Principles Of Hermeneutics | -- 2007 -- | Park Of The Palms | |
| | Reid, David | Bible Hermeneutics-03 ~ Priority Of Original Languages | -- 2007 -- | Park Of The Palms | |
| | Reid, David | Bible Hermeneutics-04 ~ Look At The Literary Context | -- 2007 -- | Park Of The Palms | |
| | Reid, David | Bible Hermeneutics-05 ~ Remember The Basic Unit Of Scripture | -- 2007 -- | Park Of The Palms | |
| | Reid, David | Bible Hermeneutics-06 ~ Let Scripture Interpret Scripture | -- 2007 -- | Park Of The Palms | |
| | Reid, David | Bible Hermeneutics-07 ~ One Interpretation-Many Applications | -- 2007 -- | Park Of The Palms | |
| | Reid, David | Bible Hermeneutics-08 ~ Covenant And Dispensational Theologies | -- 2007 -- | Park Of The Palms | |
| | Reid, David | Bible Hermeneutics-09 ~ Never Determine Doctrine From Illustration | -- 2007 -- | Park Of The Palms | |
| | Reid, David | Do's & Dont's Of Biblical Interpretation-01 ~ Northwest Bible Chpl Ministry | -- 2009 -- | unavailable | |
| | Reid, David | Do's & Dont's Of Biblical Interpretation-02 ~ Northwest Bible Chpl Ministry | -- 2009 -- | unavailable | |
| | Reid, David | Do's & Dont's Of Biblical Interpretation-03 ~ Northwest Bible Chpl Ministry | -- 2009 -- | unavailable | |
| | Reid, David | Do's & Dont's Of Biblical Interpretation-04 ~ Northwest Bible Chpl Ministry | -- 2009 -- | unavailable | |
| | Reid, David | Do's & Dont's Of Biblical Interpretation-05 ~ Northwest Bible Chpl Ministry | -- 2009 -- | unavailable | |
| | Reid, David | N-Workers Conference 1984-04 ~ The Need For Expository Preaching | -- 1984 -- | unavailable | |
| | Reid, David | The Blind Man Healed In Stages ~ Mark 8:22-26 Mark | -- 2007 -- | Park Of The Palms | |
| | Reid, David | Week Of Meetings-2009-01 ~ Cursing Of The Fig Tree | -- 2009 -- | unavailable | |
| | Reid, David | Week Of Meetings-2009-02 ~ Calming Of The Troubled Sea | -- 2009 -- | unavailable | |
| | Reid, David | Week Of Meetings-2009-03 ~ Hermeneutics-1 | -- 2009 -- | unavailable | |
| | Reid, David | Week Of Meetings-2009-04 ~ Hermeneutics-2 | -- 2009 -- | unavailable | |